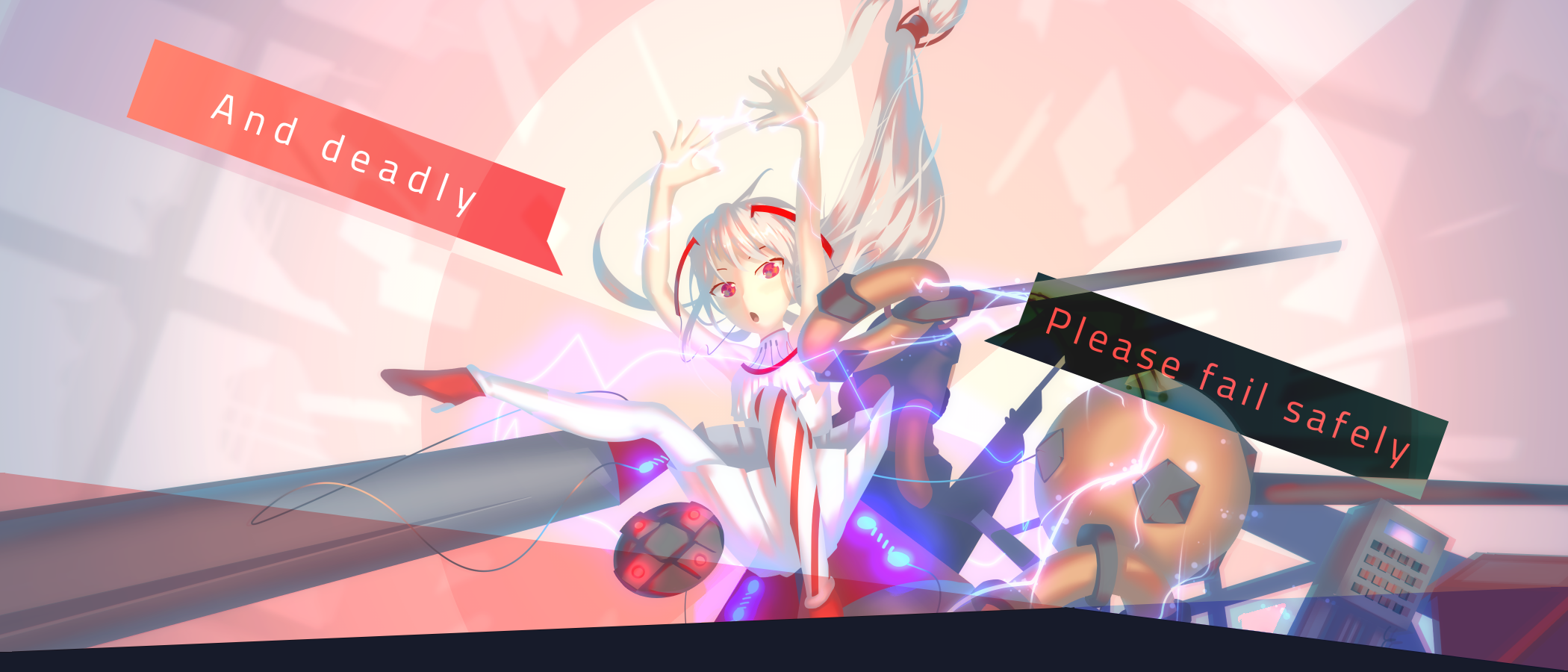 Please Fail Safely and Deadly
Brandon, the protagonist, is a highly-trained special agent.
Astrith, the other protagonist, doesn't do anything other than... not dying.
It is a law of this universe that she cannot die. She doesn't dodge bullets. Bullets dodge her.
A nuclear missile is a different story though. To save the world (except our immortal protagonist) from being obliterated, and to retrieve a mysterious stolen casket, the duo set forth a journey...
Please Fail Safely and Deadly is an HTML5 puzzle / shooter game where you control a special agent and an immortal to survive through tricky situations. This game is free of charge. I'd really appreciate it if you can leave a comment and let me know what you think.
WARNING - This game contains sensitive content involving mild violence, suicide and crude humor that may not be appropriate for all ages. (Age 13 or above is recommended.)
彼蘭登,此遊戲的主角,是一名受嚴格訓練的特務。
愛絲翠,此遊戲另一位主角,並沒有甚麼戰鬥的本領,就是死不了而已。
這宇宙的法則規定她絕對不會死。她不用躲避子彈。子彈會躲避她。
不過核彈就是另一回事了。為了拯救世界(除了那不死的主角外)免於毀滅,以及尋回某個被盜的靈柩,兩人展開了旅程……
「安全可靠的末日機器」是一個解謎及射擊遊戲。玩家控制特務與不死者突破重重難關。這遊戲完全免費。遊戲裡沒有廣告或付費項目。歡迎各位不吝留言,感激不盡!
警告 - 此遊戲含有輕度暴力,自殺及粗鄙幽默內容,可能不適合所有年齡層人士觀看。(建議13歲或以上人士觀看。)
Website: https://seqvalence.com
Email: seqvalence@gmail.com
Twitter: https://twitter.com/seqvalence
DeviantArt: https://www.deviantart.com/seqvl5
Pixiv: https://www.pixiv.net/member.php?id=18216040
Also available on

Comments
Log in with itch.io to leave a comment.
really fantastic game
I'm writing in indiegame news website, I"d like to introduce this game at the site.
Can I use some pictures and screenshots?
Thank you very much for your interest! Feel free to use pictures and screenshots of this game. Please include a link to this game in your article. Looking forward to reading your article!
Thank you so much for your review! I'm glad that you like the game!
ありがとうございました。本当にうれしいです。